Unami Middle School Library- Welcome!
Welcome to the Unami Library. These pages will help you to become familiar with the resources available in the library as well as help you to navigate the web successfully
.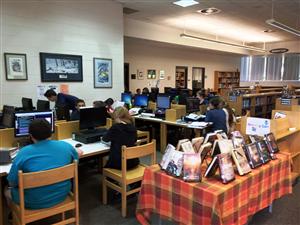 Log in with your Unami username and password into the library catalog and look under "My Info." You can renew your books twice on your own.


You also can download our catalog directly to your mobile device.
Download the free app: Destiny Quest Mobile from the App Store or Android Google Play.

1. You will be prompted to enter the library's URL address: http://destiny.cbsd.org

2. Choose Unami Middle School

3. Log in to your Destiny account with your Unami computer username and password.

4. You can search our catalog, see what books you have out and when they are due, and even renew your books twice using the ACCOUNT button on the moblie app.


Check out Mrs. Kilpatrick's Shelfari Book Shelf
Awesome Site: Young Adult Books in Series and Sequels
Unami Library Policies
• Most materials circulate for two weeks, with renewals available as needed.
• Fines for late returns are 5 cents per day per item.
You may renew your books two times either online or through the mobile app.

Failure to address library obligations in a reasonable time will result in either a lunch or after-school detention.
• During class periods: students need to have a pass signed by a teacher.
• During Resource: students need to obtain a pass from the librarian to work in the library for the entire resource period.
• Computers are to be used solely for academic purposes.





Clip art licensed from the Clip Art Gallery on DiscoverySchool.com