Unami Athletics
Please click on the links for more sports information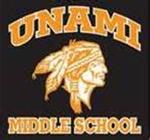 Announcements:
The 7th grade boys basketball game against Tamanend scheduled for 2/9 has been rescheduled for 2/22 (Wednesday) at Tamanend.
7th and 8th grade Spring Sports will begin March 13th. All participating students need to have registered for their sport on Family ID as well as have handed in a completed physical form and completed concussion testing if their sport requires it.
There will be an interest meeting in room 324 at 2:00 on Monday, February 27th for all 7th and 8th grade girls interested in playing soccer this spring.

There is an interest meeting in the auditorium for 7th and 8th grade boys interested in playing baseball this spring on Tuesday, February 28th at 2:00.
7th and 8th grade spring sports will have a meeting on Tuesday, February 21st in the Auditorium at resource. All athletes must attend.
Any 7th or 8th grade student planning to play a spring sport needs to participate in concussion testing on Thursday, February 23rd in the Library if they have not participate in a concussion test in the past. Please see Mr. Beyerle with questions.
The Central Bucks School District will be offering a pilot program for 7th and 8th Grade Boys' and Girls' Lacrosse for the 2017 spring season. CB Middle Schools will be combining teams due to facility limitations as part of the pilot program. The season will begin in mid- March and run through mid-May. Below is additional information regarding the pilot program.

Additional, specific information will be provided by coaches/athletic directors at each school's spring sports informational meetings. Unami will have lacrosse teams at the following locations:
Tamanend/ Unami Boys played at Unami
Tamanend/ Unami girls played at Tamanend
Unami needs two track coaches and a lacrosse coach for the spring season. Email Mr. Beyerle at
gbeyerle@cbsd.org
with any questions/ if you are interested.

The Unami Athletic Department is excited to announce that we are now offering the convenience of online registration for all sports through partner company, FamilyID. For more information,
click here
.
PIAA Physical Form (Sections 5- 6 – link below) will still need to be completed and taken to your physician for signature and then handed into the CB South Athletic Office to be kept on file. Athletes who participated in a fall or Winter sport will still need a recertification form (section 7 or 8) filled out.
Important
****According to PIAA rules, Sports Physicals (CIPPE) are only valid for the 2016-2017 school year if they are dated AFTER June 1, 20156
Any CIPPE dated prior to June 1, expired on May 31, 2016, regardless of when it was done, and will not be valid for fall sports.****
Please
click here
to view the PIAA regulation page if you need further clarification.
Additional Announcements:
7th and 8th Grade Girls planning to try-out for basketball in November have the opportunity to attend "Open Gyms" on Wednesday nights from 6-7 starting on September 21st.


Athletic Forms & Information

Recertification Form (sections 7 & 8) - required (for students who previously played a sport during the current school year)
___________________________________________________________________________________
---